BODY ROCK FITNESS & NUTRITION
15 MOSHASSUCK ROAD LINCOLN, RI 02865 2ND FLOOR
Welcome to Body Rock Fitness & Nutrition, RI's most unique spot for private training, group classes, nutrition planning, and competitive coaching. If you are looking for a fun, welcoming place to begin or continue the journey to the best you possible… YOU'VE FOUND IT!! Our trainers and instructors are unlike any other. We have come together to form the "Body Rock Family" and we want you to be a part of it. Whether its a beast mode private session or a group class, we promise you will not leave disappointed. With unique classes like Build-A-Booty, Dance your A$$ off, and Body Blast, you are sure to wake up your workout routine. Come see what everyone has been talking about and why Body Rock is RI's favorite fitness studio.
TEAM BODY ROCK
YOUR ULTIMATE FITNESS COMPETITOR HEADQUARTERS
We are committed to helping each athlete showcase their best package on stage. With over a decade of combined experience competing and working in the fitness world, we are passionate about coaching our competitors on every last detail. We provide every service necessary to ensure that our athletes rock the stage like professionals whether it's your first show or you're a seasonal veteran! Over the past few years we have proudly coached multiple Body Rock athletes to WBFF Pro Status. Team Body Rock prides itself on developing a true family-like atmosphere for our athletes. We believe it's what transforms this from a sport to a life changing experience. Let us help you reach your ultimate fitness goals. We look forward to coaching you throughout this new chapter in your fitness journey! Get ready for the experience of a lifetime. Love & Friendship. Coach Costa & Coach Kay
BODY ROCKER OF THE MONTH
Justin Anzeveno
Justin started on his weight loss journey in August 2014 where he was at his heaviest of 275lbs. He was unhappy, lacked energy, motivation and confidence. Justin started taking group classes with Peter Mollo and the weight started to come off. The game changer for him was when Peter introduced him to the Advocare 24 day challenge where he saw amazing results! Justin started at BodyRock in May and has not looked back. Since starting on his journey almost 2 years ago he's lost 70lbs, and is now training for his first fitness competition in November with Team Body Rock (Transformation Divison) under the guidance of Nicole Costa and Peter Mollo.
Justin's motivation is the competition in November but more importantly to be healthy for his little nephew, Lucas. He wants to be able to be around to see all his firsts and all of his accomplishments and his successes. Lucas means the absolute world to Justin!
Way to be such a role model, Justin! I'm sure your nephew is so proud of you. You are everything Body Rock stands for and we couldn't be more excited to have you as part of the family.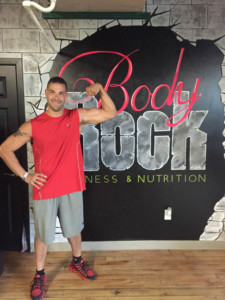 BODY ROCK FITNESS SERVICES
15 MOSHASSUCK ROAD LINCOLN, RI 02865 2ND FLOOR
THE SECRET OF GETTING AHEAD IS GETTING STARTED.