BODY ROCK FITNESS & NUTRITION
15 MOSHASSUCK ROAD LINCOLN, RI 02865 2ND FLOOR
Welcome to Body Rock Fitness & Nutrition, RI's most unique spot for private training, group classes, nutrition planning, and competitive coaching. If you are looking for a fun, welcoming place to begin or continue the journey to the best you possible… YOU'VE FOUND IT!! Our trainers and instructors are unlike any other. We have come together to form the "Body Rock Family" and we want you to be a part of it. Whether its a beast mode private session or a group class, we promise you will not leave disappointed. With unique classes like Build-A-Booty, Dance your A$$ off, and Body Blast, you are sure to wake up your workout routine. Come see what everyone has been talking about and why Body Rock is RI's favorite fitness studio.
TEAM BODY ROCK
YOUR ULTIMATE FITNESS COMPETITOR HEADQUARTERS
We are committed to helping each athlete showcase their best package on stage. With over a decade of combined experience competing and working in the fitness world, we are passionate about coaching our competitors on every last detail. We provide every service necessary to ensure that our athletes rock the stage like professionals whether it's your first show or you're a seasonal veteran! Over the past few years we have proudly coached multiple Body Rock athletes to WBFF Pro Status. Team Body Rock prides itself on developing a true family-like atmosphere for our athletes. We believe it's what transforms this from a sport to a life changing experience. Let us help you reach your ultimate fitness goals. We look forward to coaching you throughout this new chapter in your fitness journey! Get ready for the experience of a lifetime. Love & Friendship. Coach Costa & Coach Kay
BODY ROCKER OF THE MONTH
Kristen Perrotta
Kris has been part of the Body Rock family since the very beginning. She has always been a huge part of our support system and encouraged us every step of the way. Kris is a wife and an amazing mom to her two boys.
Recently Kris decided to throw all excuses out the window and focus a little more on herself. She committed to our 16 week transformation program and her dedication and commitment over the past 15 weeks are directly reflected in her results. Kris has completely transformed her body and is in the best shape of her life! Outside of her physical transformation she has gained so much confidence in herself and we truly couldn't be more proud. She's inspiring so many others to take that first step to becoming the best version of themselves. Thank you for always trusting and believing in us, Kris. It's been incredible watching your growth. Keep killing it!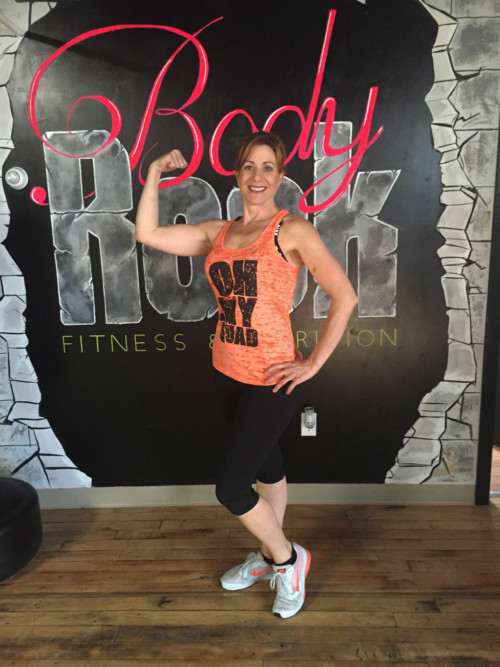 BODY ROCK FITNESS SERVICES
15 MOSHASSUCK ROAD LINCOLN, RI 02865 2ND FLOOR
THE SECRET OF GETTING AHEAD IS GETTING STARTED.